US close: Stocks extend gains after Fed interest rate decision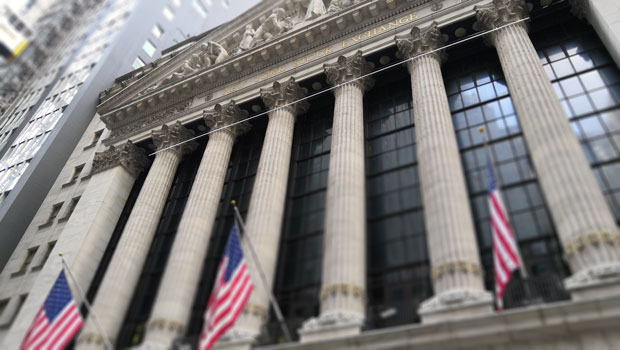 Shares on Wall Street closed higher on Thursday after the Federal Reserve Bank decreed its second overnight interest rate hike of 0.75 percentage points in an effort to dampen runaway inflation without causing a recession.
At the close, the Dow Jones Industrial Average was up 1.03% at 32,529.63, while the S&P 500 was 1.21% lower at 4,072.43 and the Nasdaq Composite saw the session fall. weaken 1.08% to 12,162.59.
The Dow Jones closed down 332.04 points on Thursday, extending the gains recorded in the previous session.
The Federal Reserve's decision to raise its benchmark overnight borrowing rate to a range of 2.25-2.5% again caught the eye of investors after the opening bell, its moves in June and July representing the bank's toughest back-to-back actions since its inception. using the overnight funds rate as the main method of monetary policy in the early 1990s.
Profits were also a focus, with South West Airlines a record quarter thanks to gains in fuel hedging, Stanley Black & Decker stocks tumble after posting a shortfall and slashing full-year guidance, and Carlyle Group generating a 34% increase in its profits in the second quarter thanks to strong asset sales.
Merck & Co. beat estimates on higher-than-expected second-quarter earnings and revenue, Comcast disclosed that it added no broadband customers during the quarter, Honeywell incomes rose thanks to a rebound in demand for travel and office work, while Pfizer quarterly sales hit a record high.
MoneyGram reported second-quarter earnings and revenue above estimates and MasterCard Shares traded higher after beating expectations with earnings amid "robust" spending throughout the quarter.
On the macroeconomic front, the U.S. economy contracted unexpectedly in the three months to June 30, according to the Department of Commerce, which said U.S. gross domestic product fell at an annualized quarterly rate of 0.9% during the second quarter. The consensus had been for growth of 0.5%.
Elsewhere, Americans filed for unemployment claims for the first time at a slightly slower pace in the week ended July 23, down 5,000 to 265,000, according to the ministry of labor. The initial print of jobless claims fell short of expectations for a decline to 253,000. On an unadjusted basis, claims fell 42,417 week-over-week to 216 469, with notable declines in Massachusetts, New York and South Carolina.
Reporting by Iain Gilbert on Sharecast.com
Dow Jones – risers
Nike Inc. (NKE) $112.23 4.05%
Microsoft Corp. (MSFT) $276.41 2.85%
Walmart Inc. (WMT) $129.75 2.50%
Cisco Systems Inc. (CSCO) $45.62 2.20%
Boeing Co. (BA) $159.09 1.92%
McDonald's Corp. (MCD) $263.46 1.77%
Coca-Cola Co. (KO) $64.06 1.67%
Procter & Gamble Co. (PG) $148.06 1.66%
Verizon Communications Inc. (VZ) $45.55 1.43%
Goldman Sachs Group Inc. (GS) $329.11 1.41%
Dow Jones – Fallers
Travelers Company Inc. (TRV) $155.74 -2.03%
Merck & Co. Inc. (MRK) $89.94 -1.41%
Intel Corp. (INTC) $39.71 -1.17%
Amgen Inc. (AMGN) $249.75 -0.78%
JP Morgan Chase & Co. (JPM) $114.81 -0.37%
Dowdupont Inc. (DWDP) $30.52 0.00%
Honeywell International Inc. (HON) $230.94 0.00%
International Business Machines Corporation (CDI) (IBM) $129.22 0.08%
Dow Chemical Co. (DOW) $52.30 0.11%
Home Depot Inc. (HD) $299.63 0.24%
S&P 500 – Risers
FMC Technologies Inc. (FTI) $7.33 10.06%
AES Corp. (ESA) $22.28 9.48%
Rollins Inc. (ROL) $38.57 9.08%
Equinix, Inc. (EQIX) $711.31 9.06%
Royal Caribbean Cr (RCL) $37.86 8.45%
Quanta Services Inc. (PWR) $145.29 8.45%
Charles Schwab Corp. (SCHW) $67.70 8.30%
National Oilwell Varco Inc. (NOV) $16.92 7.91%
Harley-Davidson Inc. (HOG) $36.96 7.76%
Gap Inc. (GPS) $9.56 7.66%
S&P 500 – Slaughters
Stanley Black & Decker Inc. (SWK) $98.58 -16.07%
Cincinnati Financial Corp. (CINF) $97.68 -13.91%
Baxter International Inc. (BAX) $59.50 -10.93%
Comcast Corp. (CMCSA) $39.41 -9.13%
Charter Communications Inc. (CHTR) $435.58 -8.48%
Teleflex Inc. (TFX) $245.69 -7.82%
Southwest Airlines Co. (LUV) $38.15 -6.43%
Pain Financial Holdings, Inc. (BFH) $40.28 -5.25%
Meta Platforms Inc. (META) $160.72 -5.22%
Cognizant Technology Solutions Corp. (CTSH) $66.83 -4.94%
S&P 500 – Risers
FMC Technologies Inc. (FTI) $7.33 10.06%
AES Corp. (ESA) $22.28 9.48%
Rollins Inc. (ROL) $38.57 9.08%
Equinix, Inc. (EQIX) $711.31 9.06%
Royal Caribbean Cr (RCL) $37.86 8.45%
Quanta Services Inc. (PWR) $145.29 8.45%
Charles Schwab Corp. (SCHW) $67.70 8.30%
National Oilwell Varco Inc. (NOV) $16.92 7.91%
Harley-Davidson Inc. (HOG) $36.96 7.76%
Gap Inc. (GPS) $9.56 7.66%
S&P 500 – Slaughters
Stanley Black & Decker Inc. (SWK) $98.58 -16.07%
Cincinnati Financial Corp. (CINF) $97.68 -13.91%
Baxter International Inc. (BAX) $59.50 -10.93%
Comcast Corp. (CMCSA) $39.41 -9.13%
Charter Communications Inc. (CHTR) $435.58 -8.48%
Teleflex Inc. (TFX) $245.69 -7.82%
Southwest Airlines Co. (LUV) $38.15 -6.43%
Pain Financial Holdings, Inc. (BFH) $40.28 -5.25%
Meta Platforms Inc. (META) $160.72 -5.22%
Cognizant Technology Solutions Corp. (CTSH) $66.83 -4.94%
Nasdaq 100 – Risers
Align Technology Inc. (ALGN) $282.25 7.48%
JB Hunt Transport Services Inc. (JBHT) $179.45 4.61%
Autodesk Inc. (ADSK) $212.16 4.30%
Cadence Design Systems Inc. (CDNS) $183.62 3.96%
Lam Research Corp. (LRCX) $484.94 3.69%
Intuit Inc. (INTU) $448.59 3.56%
Fastenal Co. (FAST) $49.91 3.38%
Idexx Laboratories Inc. (IDXX) $398.56 3.26%
Illumina Inc. (ILMN) $213.75 3.18%
Microsoft Corp. (MSFT) $276.41 2.85%
Nasdaq 100 – Fallers
Comcast Corp. (CMCSA) $39.41 -9.13%
Charter Communications Inc. (CHTR) $435.58 -8.48%
Meta Platforms Inc. (META) $160.72 -5.22%
Cognizant Technology Solutions Corp. (CTSH) $66.83 -4.94%
QUALCOMM Inc. (QCOM) $146.45 -4.54%
Liberty Global plc Series A (LBTYA) $20.88 -2.61%
Incyte Corp. (INCY) $78.82 -2.31%
DishNetwork Corp. (DISH) $18.06 -2.30%
Vertex Pharmaceuticals Inc. (VRTX) $280.82 -2.15%
Liberty Global plc Series C (LBTYK) $22.00 -2.09%