Covid-19 has accelerated the shift to digital financial services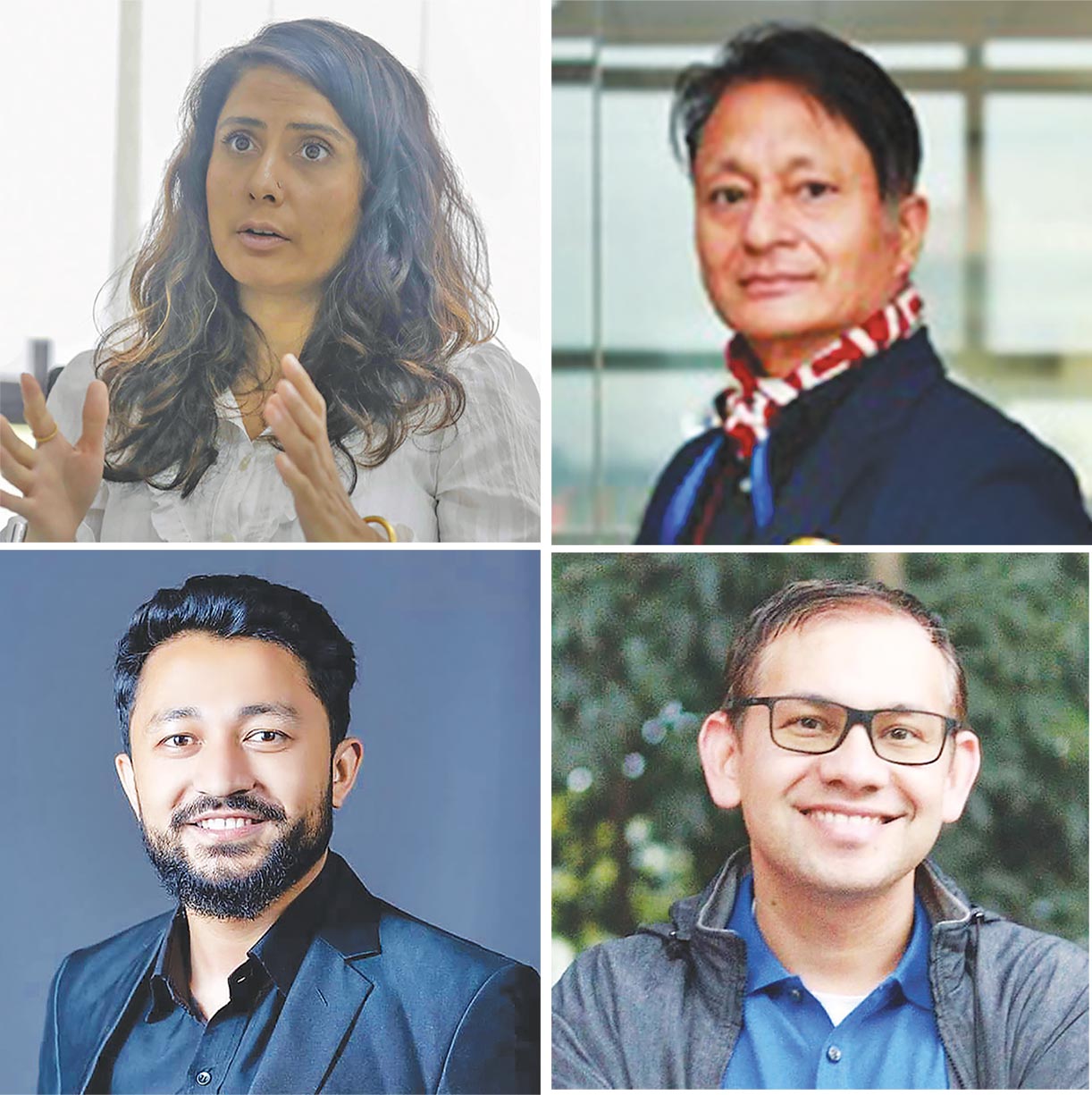 More than a third of adults in developing economies who paid a utility bill from an account did so for the first time after Covid-19, an indication of how the pandemic has boosted the adoption of digital financial services, according to the Global Findex 2021 database released Wednesday by the World Bank. Worldwide, 70% of adults have access to the Internet. According to the report, 1 billion adults who have an account have not made any digital payments, including 540 million in India. And about 620 million adults who have an account still paid their utility bills in cash.
In developing economies, 1.6 billion adult account holders made cash-only merchant payments, including 670 million in India.
Experts say the future is digital, but not everyone is on board yet.
"Obviously, e-commerce has grown from a financial point of view. Transactions through the digital system are growing tremendously," said Omesh Lal Shrestha, Managing Director of CAS Solution and Silver Lining.
"In Nepal, the number of digital payment users has skyrocketed after Covid-19, and people are becoming more accustomed to paying online," said Shrestha, who is due to speak on the topic. From conventional to e-commerce in Nepal" at the Annual Daraz Summit 2022 on Sunday.
This year's Daraz Summit aims to create a space for distinguished digital thought leaders to discuss the development phases of the e-commerce industry in Nepal, the prospects and challenges of business digitization and the steps that the industry can take together to transform these challenges. into opportunities.
According to the World Bank report, globally, the share of adults making a digital merchant payment also increased after the Covid-19 outbreak. For example, in India, over 80 million adults made their first digital merchant payment during the pandemic.
In China, 82% of adults made a digital merchant payment in 2021, including more than 100 million adults (11%) who did so for the first time after the pandemic began.
In developing economies, excluding China, 20% of adults made a digital merchant payment in 2021. These data indicate the role of the pandemic and social distancing restrictions in accelerating the adoption of digital digital payments.
In developing economies like Nepal, there are still many challenges due to lack of postal addresses or house numbers, which makes it difficult to deliver on time, Shrestha said.
Companies like Daraz have launched their own logistics wing, Daraz Express, which helps customers collect their goods from select pickup points, he said.
According to the World Bank report, in developing countries, women are less likely to have an account than men. Nepal has double-digit gaps in the use of digital payments among account holders.
Shankar Uprety, CEO of Hamro Patro, said that in Nepal financial decisions are mostly taken by men and hence there is also a gender gap in the digital payment system.
A large number of male users are making digital payments for electricity, internet, mobile phones and other services.
Uprety, who will be speaking as a panelist at the summit on "Blending Market and Trade for the Digital Economy," said making the digital economy inclusive starts with bridging the gap in the informal economy.
"Unless women become digitally literate and become users, the gap will not easily close," Uprety said. "Government can initiate programs for women on digital transactions to encourage the use of digital payment."
There are significant gender gaps in Nepal where women report not having a bank account because a family member already has one, according to the World Bank report.
In Nepal, 73% of unbanked adults have a mobile phone, according to the report.
The report suggests that mobile phones could overcome some of the barriers that unbanked adults believe prevent them from accessing financial services. For example, digital financial services could alleviate the problem of physical distance between financial institutions and their customers.
The Daraz Summit will bring together key digital stakeholders and thought leaders from government, financial institutions, education, service providers, and the business and development sectors to provide valuable input to address the financial needs and bridging gender gaps in the digital marketplace. time.
Aanchal Kunwar, managing director of Daraz, said the summit would focus on building trust among customers.
She says e-commerce alone is not something that affects customer experience, as banks, financial systems and government policy are also required to deliver the service.
"Summits like this will help stakeholders come together to find better solutions and promote digital markets," Kunwar said.
Some stakeholders claim that the lack of legislation has hampered the rapid growth of the e-commerce market in Nepal.
"We haven't been able to go for an all-digital economy because we still lack e-commerce laws," said Santosh Pandey, co-founder of OHO Cake and Offering Happiness. "Laws are needed to provide a clearer picture and to stimulate the industry," he said.
Pandey will make his contributions on the theme "Blending Market and Trade for the Digital Economy" at Sunday's summit.
The government has prepared an E-Commerce Bill which aims to create a regulatory environment that facilitates online commerce in Nepal.
The bill, when passed, will regulate and facilitate trade in goods, services and intellectual property rights electronically, and support the growing digital ecosystem.
E-commerce has steadily grown in Nepal, and the extraordinary situation created by the stay-at-home order following the coronavirus pandemic has underscored its importance.
Govinda Bahadur Karki, co-secretary of the Ministry of Industry, Trade and Supply, said the draft e-commerce law has been sent to the Ministry of Law for their suggestions. "We are preparing to register the bill in Parliament soon," he said.
In addition to this, the Information Technology Bill is also in parliament, Karki said. "These two bills, once ratified, will help Nepal move towards a digital economy."
According to Nepal Rastra Bank, there were 62.64 million digital transactions worth Rs 5.31 trillion during the month-long period from mid-April to mid-May of the exercise in progress.
"In Nepal, the e-commerce ecosystem is being built, with sellers in the marketplace being gradually formed," Pandey said. "As logistics improve, so too are the number of digital payment options," he said.
"An increase in the number of platforms such as Daraz, Pathao, Foodmandu and Bhojdeal, among others, helps generate 40-50% of our daily sales," said Pandey, co-founder of OHO Cake and Offering. happiness.
Pandey said the number of customers ordering goods from social media platforms is huge compared to customers downloading a particular company's mobile app.
"One of the biggest challenges in e-commerce is increasing the footprint outside the Kathmandu Valley due to logistical issues," he said.
Sanjit Subba, CEO of Nepal Electronic Payment System, said e-commerce has grown over the past five years. "The Covid-19 pandemic has been the main driver."
Subba will speak on "From Conventional to E-Commerce in Nepal" at the summit.
He said e-commerce has empowered local sellers, which is important for the economy and a big step forward for the digital economy.
"Although the number of online shoppers making digital payments has increased, many customers still stick to cash on delivery," Subba said.
According to the World Bank report, 620 million adult account holders paid utility bills in cash globally, and more than 1.6 billion account holders in developing economies only used cash for merchant payments.
However, digitizing cash payments is not just about getting account holders to use an account.
Financial infrastructure – enabled by actors such as governments, telecommunications providers, payment processors and financial service providers – is also necessary to create an environment in which safe, affordable and convenient products and functionalities are widely available, according to the report.
"More needs to be done to do fewer cash transactions," Subba said. "To make digital payment more inclusive, the government must also extend infrastructure to rural areas," he said.
"Furthermore, we have also not been able to increase consumer confidence," Subba said. "Unless a customer receives the product as expected and with a no-hassle return policy, it will be difficult to gain customer trust," he said.
Developing and enforcing clearer guidelines on effective price disclosure and transparency could help build trust in the financial system and help account holders recognize the difference between legitimate fees that are part of the price of service and improper charges or excessively high interest rates, the World Bank said.