Avanse Financial Services strengthens its corporate responsibility ties with Samarthanam Trust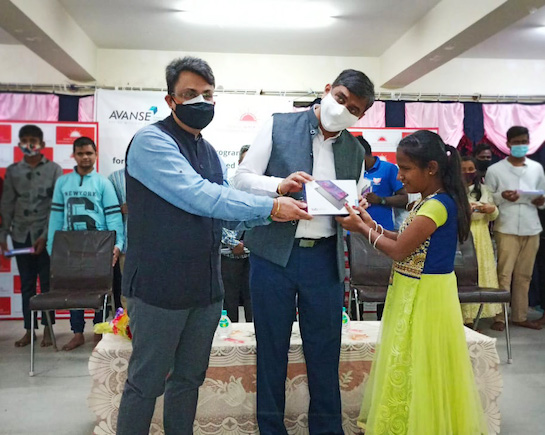 Avanse Financial Services, India's new era focused on technologically advanced education NBFC, has always gone out of its way to improve and accelerate India's educational environment. The organization has consistently worked to achieve holistic growth for the larger community in which it operates by remaining steadfast in its corporate social responsibility mission of making quality education accessible to every deserving underserved Indian student. As part of its CSR initiatives, the organization today interacted with some of the talented children of Samarthanam Trust and distributed tablets to students so that they can seamlessly continue their online education journey. This NGO helps young people with disabilities from the underserved community and promotes the construction of an inclusive society, which offers equal opportunities, without discrimination. Avanse Financial Services provided various facilities such as learning materials for the online sessions, accommodation facilities, food and other support equipment for the students to enable them to achieve their academic aspirations.
According to the National Statistics Office, 2.2% of the Indian population lives with a physical or mental disability. In addition, according to UNESCO's "State of Education in India: Children with Disabilities Report" (2019) by UNESCO, 75% of children with disabilities do not attend school in India. Bridging the gap between disability and education is essential to ensure independent living for people with disabilities. Understanding this crucial need, Avanse Financial Services partnered with Samarthanam Trust in January 2020 and since then has worked closely with this NGO to make quality education accessible to students with disabilities. With the help of this collaboration, Avanse Financial Services strives to enable these students to become independent and to move towards a better future. The organization provided ongoing support to high school students, in the age group of 17 to 20 years.
Commenting on the occasion, Mr. Amit Gainda, CEO of Avanse Financial Services said: "As a responsible organization, Avanse Financial Services goes beyond the simple profitable growth of the business and focuses on achieving 'holistic growth for the larger community in which it operates. We understand the importance of education and we believe it is an essential condition for each individual to achieve a bright future. As an education-focused NBFC, we have collaborated with the ecosystem to make quality education accessible to all deserving and underserved Indian students. We are delighted to extend our continued support to Samarthanam Trust to accelerate students' academic journeys and are sure to witness their bright future in the years to come.
Dr Mahantesh, Founder, Managing Director, Samarthanam says: "At Samarthanam we believe that no child should be left behind when it comes to learning and the pandemic has deepened the digital divide in India for students. , without access to digital learning. tools, when online courses had become the norm. This is where I have to thank Avanse Financial Services for facilitating a whole new educational experience by distributing tablets to our disabled and underprivileged students and engaging students' interest so that they can continue their journey of learning. online education for their bright future.
To create impact in the lives of students at the local level, Avanse Financial Services has formed an alliance with three NGOs – MelJol, Samarthanam and Muktangan for education-focused initiatives as part of its CSR. As a responsible organization committed to the democratization of education, Avanse Financial Services has dedicated its expertise to identifying the challenges facing underserved students. Thus, the organization organized the bridge to provide support to students, children with disabilities and teachers in the community through its partnership with various non-profit organizations.